06/04/2021
Volkswagen Group Rus and Sber have signed a memorandum of understanding
Through this partnership, Volkswagen Group Rus and Sber will raise the efficiency of their business models and greatly optimize their existing processes
The partnership will focus on the integration of IT in vehicles, solutions based on cloud technologies and AI modeling, and the development of start-up and R&D projects and of e-mobility and charging infrastructure
St. Petersburg, June 4, 2021 — Volkswagen Group Rus announces the signing of a memorandum of understanding with Sber during the St.Petersburg International Economic Forum, to be held on June 2 to 5, 2021. The agreement involves strengthening the partnership between the two companies and exploring new areas of mutual interest and cooperation. These include the integration of IT in vehicles, the development and implementation of cloud-based solutions, as well as AI modeling. Together, Volkswagen Group Rus and Sber will discover new markets and maintain a constant exchange of information on any prospects for innovative development while optimizing their existing business models and existing processes.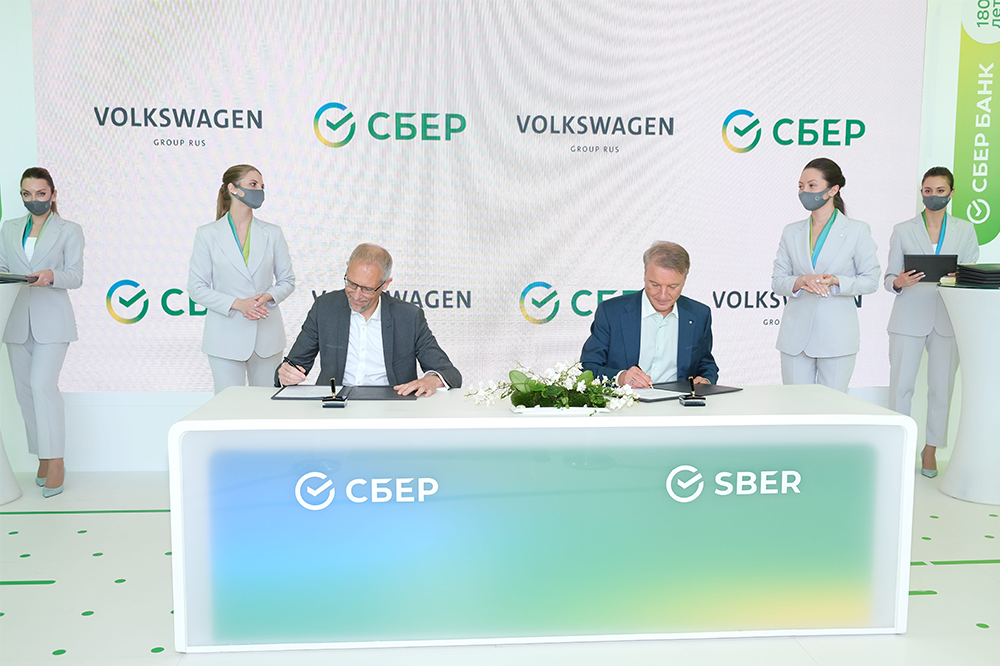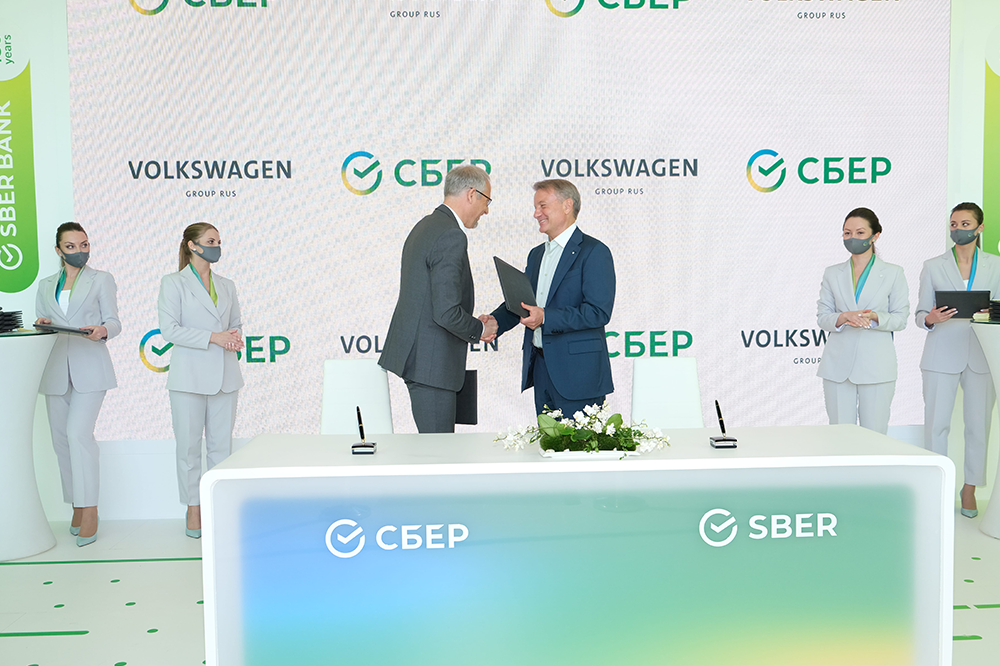 Volkswagen Group Rus and Sber will focus on the development of start-up and R&D projects, e-mobility and charging infrastructure, all with an eye to ESG. The companies are considering how best to share their expertise and analytical resources in their current and future joint projects. In putting the memorandum into action, the companies plan to draw up models of cooperation in each field and general and project-specific road maps, as well as to develop new solutions, technologies, and conditions of service on competitive terms.

Stefan Mecha, CEO of Volkswagen Group Rus, notes: «We are impressed with transformation Sber has undergone in recent years, and we are thrilled to kick off our cooperation with this successful, innovative, high-tech company. Several sectors are of great interest to us in terms of the potential for innovative development, for example, autonomous driving technologies or new formats of mobility. We are delighted with the agreement we have reached with Sber. It will open up broad perspectives for us, both in the development of completely new solutions and in increasing the efficiency and profitability of our existing projects.»

Herman Gref, CEO, Chairman of the Executive Board of Sber said: «It is important for us that Sber's technologies help make people's lives better. And this partnership with Volkswagen Group Rus, one of the largest investors in the Russian automotive industry, will help us enter new markets, optimize our companies' internal processes, and provide our customers with a completely new level of service. The memorandum strikes a balance between focusing on technology and reflecting our interest in minimizing our impact on the environment. I think this is a great example of a responsible approach to doing business, one aimed at sustainable development for the sake of future generations».




---

About Volkswagen Group Rus
VOLKSWAGEN Group Rus OOO offers seven of its brands on the Russian market: Volkswagen Passenger Cars, Audi, ŠKODA, Bentley, Lamborghini, Ducati, and Volkswagen Commercial Vehicles. In 2019, the Volkswagen Group's sales in the Russian market amounted to 233,600 vehicles. In 2019, 214,000 vehicles were produced at the company's facilities: 150,000 at the company's Kaluga plant and 64,000 at the plant in Nizhny Novgorod. The market share of VOLKSWAGEN Group Rus OOO reached 12.9% in 2019. It exported 24,600 vehicles to Europe and other CIS member states. In 2019, Volkswagen Group Rus's facility in Kaluga produced 143,500 engines, 24,000 of which were exported to manufacturing locations in Europe.

About Sber
Sber is one of the largest banks in Russia and one of the leading global financial institutions. Sber accounts for about one third of the assets of the entire Russian banking sector. Sber is a key lender to the national economy and holds one of the largest shares in the deposit market. The main shareholder of Sber is the Ministry of Finance of the Russian Federation, which owns 50% of Sber's authorized capital plus 1 voting share. The remaining 50% minus 1 voting share of the bank's authorized capital is held by Russian and international investors. Sber's services are used by clients in 18 countries around the world. The bank has an extensive branch network in Russia with about 14 thousand service points. The bank's foreign network consists of subsidiary banks, branches and representative offices in the UK, USA, CIS, Central and Eastern Europe, India, China and other countries.